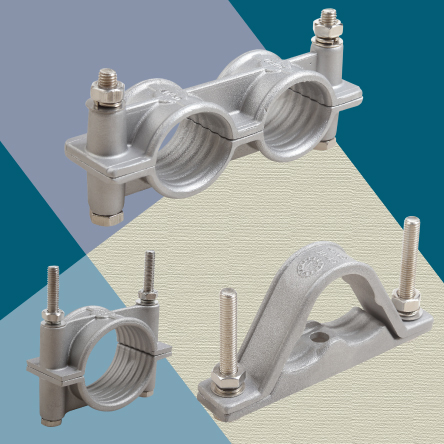 Cable Cleats and their importance to Cable Management
This short blog aims to guide you through the importantance of Cable Cleats as an accessory to professional cable management.
Electromagnectic fields caused by the flow of current through cables induce electromechanical forces on the cables themselves and their support structures. During a power surge or short circuit, this can cause severe damage to the support structures or to human life due to violent whiplash movements by the cables.
Cable Cleats were designed specifically to address this problem. They work by securing the cables together and providing opposition to the elecromechanical forces, even during a power surge. The European Standard, EN 50368 published in 2003, was the first standard to establish the framework for the design and application for cable cleats. This standard emphasised the risk to human life and the cable management system if cable cleats were not used.
The correct design and usage of cable cleats was further improved by IEC 61914 published in 2009 which is the international standard for these products. This standard specifies the test requirements and mechanical properties that all cable cleats should meet.
Axis Cable Cleats are made fro¬m high strength Aluminium Alloy and engineering plastics using the best manufacturing processes that maximise tensile strength to meet the axial and lateral loads as per IEC 61914. Axis Cable Cleats also meet the resistance to impact tests as required by the standard. Our engineering plastic are low smoke, halogen free and provide UV and environmental resistance to ensure a long and safe working life.
By making these material and design choices, Axis Cable Cleats can support your cable even during short circuits or power surges.
To learn more about the Axis range of Cable Cleats, you can download our catalogue.
You can also watch our videos on YouTube to learn more about Cable Cleats and our other products.
For more information, please contact us at marketing@axis-india.com or visit our website at www.axis-india.com.