What is IP rating?
IP rating or IEC 60529 grades the resistance of an enclosure against dust, water or other contaminants. It provides a list of the degree of protection offered by mechanical and electrical casings or enclosures. Electric equipment malfunctions or gets damaged when water or dust enters it. To avoid such situations, the equipment enclosures should be resistant to such ingression. This can be ensured by the IP ratings of the equipment as they give a more specific understanding of the protection offered. It also defines the tests to be performed to verify that the enclosure (product) meets these requirements. IP ratings are of prime importance throughout various industries like mechanical, electrical, electronics, instrumentation, automobile, etc.
The IP code is composed of the two letters IP which means ingress protection, followed by two numerals:
1) The first numeral refers to the protection against solid objects and is rated on a scale from 0 (no protection) to 6 (no ingress of dust).
2) The second numeral rates the protection against liquids and uses a scale from 0 (no protection) to 9 (high-pressure hot water from different angles).
The two digits indicate adherence to the conditions listed in the table below. The digit 0 is used when no protection is provided. A digit is replaced with the letter X when no sufficient data is available to assign a protection level. The device is considered to be less capable in such cases.
DIN 40050-9 extended the IEC 60529 rating system with an IP69K rating. IP69K stands for high-pressure, high-temperature wash-down applications. It was originally developed for road vehicles, especially those that need regular intensive cleaning. It is also useful in areas like food processing machinery and car wash systems.
You can view our wide range of Cable Glands here. Feel free to contact us if you want a quotation or have any further questions regarding our Cable Management System.
IP rating chart: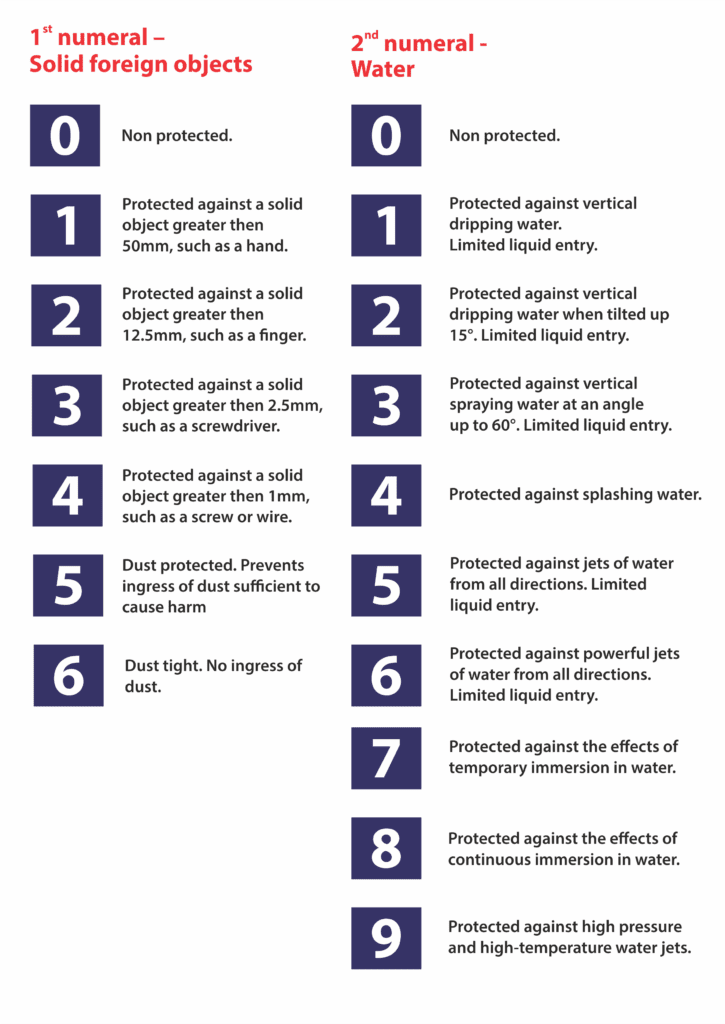 What does Ingress Protection Rating mean?
First Digit – The first digit stands for protection from solid material mainly dust. The value can range from 0 to 6. As the value increases, the ability of the product to withstand solid foreign objects or dust from entering the enclosure increases.
For example, a product that has a rating of IP20 can withstand solid foreign objects up to 12mm or greater in size. An object with a rating of IP6X has protection from dust ingress. The "X" is used to represent an area where the product has not been tested for ingress protection.
Second Digit – The second digit represents protection from liquid ingress. It has values ranging from 1 to 9. As the value of the second digit increases, protection from liquid ingress increases.
For example, a product with an IPX4 rating can withstand vertical water splashing at an angle up to 600. As the chart indicates, there are specific angles, pressures, and volume requirements that must be followed during testing. Here since the first digit is indicated as X, we can say that it is not certified for foreign body ingress protection.
Extra Letters – Sometimes, there might be an extra letter at the end of the IP code, these are optional letters. This is the supplementary letter, and it can be used to denote the supplementary information from the product standard. The letter can provide additional information related to the protection of the device from:
Letters and Meanings
F- Oil resistant
H – High voltage device
M- Device monitoring during water test
S- Device standing still during water test
W – Weather conditions
Electrical IP Rating:
IP ratings for electrical applications follow the same universal codes similar to all other types of enclosures, for ease of understanding and standardisation. However, it is more important with electrical IP ratings to strictly consider the potential exposure types and protection needed for all electrical or electronic components or systems. This is because any ingress from either particulates or moisture of any kind can result in greater damage or increased hazards.
Conclusion:
There are various types of IP-rated products available on the market now. The IP rating requires stringent testing procedures, which ensures standardization between all the different testing facilities around the world. The standardisation of IP codes enables users to gain a clear understanding of each product's abilities and limitations in different environments. It makes the selection easy with the IP rating indicated on the product. One must always be careful in checking the IP ratings for less obvious sources of moisture or foreign bodies, such as condensation, steam, accumulating dust, and corrosion or chemical attack if the product is to be used in challenging industrial environments.
Thank you for reading the blog, Axis is a leading manufacturer and supplier of Electrical Components to over 80+ Countries.  Talk to our industry expert by visiting our contact us section. You can also watch our videos by our experts – click here.