The specifications of bimetallic cable lugs (aluminium barrel – copper palm) destined for installation on circular or semi-circular sectorial shaped, stranded, compacted aluminium conductors of power cables are highlighted in this blog.
Bimetallic lugs prevent galvanic action due to dissimilar contact, primarily when a copper bus bar is connected to an aluminium cable. Copper cable lugs are ineffective when the copper bus bar and aluminium cable are together.
Welding the aluminium barrel to copper palm produces a durable and strong joint, which provides the best possible transition between the copper palm and aluminium barrel. Aluminium & Copper Bimetallic Lugs have the following advantages.
The material is conductive aluminium barrels with 60% IACS* and copper palms with 97% IACS*.
The final metal state is annealed. The jointing technique is friction welding.
Having a copper palm that matches the palms of the apparatus to be connected would be an advantage in range taking.
Five types of connectors would be available from 25 to 500mm2 Compact, which could easily be fitted into circuit breakers
Axis Bimetallic Lugs include: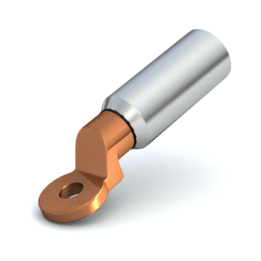 Applications of Bimetallic Lugs:
A) MV Terminations.
B) LV Connections on Bus Bar.
C) Transition joint in Systems (for high and low voltage, switchgear and grounding).
Advantages of Bimetallic Lugs:
1) Annealing connectors and lugs give exceptional adaptability.
2) Ease of entry for conductors, smooth edges.
3) It is economical, safe and high graded in use.
4) Ensures safe and economical construction. Copper components are electro-tinned to BS standard to prevent corrosion and oxidation.
5) All copper terminals are insulated with PVC to provide exceptional dielectric strength and durability.
6) There are shock-proof areas for entering the wire barrel, or the entrance is bell-mouthed to insert conductors quickly.
Manufacturing Standards:
The cable lugs shall be tested and marked according to the following standards and their last known amendments:
-IEC 61238-1 Compression and Mechanical Connectors for Power Cables for Rated Voltage up to 30 kV (Um=36kV): part 1 – Test methods and requirements
-EN 12449 Copper and copper alloys. Seamless, round tubes for general purposes
-EN 13599 Copper and copper alloys Copperplate, sheet and strip for electrical purposes (DIN 48201)
-EN 13601 Copper and copper alloys. Seamless copper rod for electrical purposes
-IS 5082 Aluminium and Aluminium Alloys, Aluminium Sheet, Strip, tubes, and Plate for Electromechanical Applications